•
•
•
•
Kitbashed, Repainted, Customized Transformers Classics/Generations Leader Class Jetfire/Skyfire
It's great to finally have a Skyfire (he was always Skyfire in the cartoon, but due to copyright trouble the toys are always called Jetfire) for my Classics collection with decent articulation and the ability to stand with no fear of toppling backwards. Unfortunately, due to Hasbro's continuing efforts to save money, he's hollow with lots of awful gaping holes in his arms and legs. Also unfortunately, the jet mode is based on an f-14 Tomcat, similar to the original toy, yet the robot mode has taken lots of design queues from the cartoon model. So he's part-way between Jetfire and Skyfire.
The cavities in his thighs, calves and feet have been filled with tiny screws and bolts to add weight and stabilise him;
Hollow parts of his thighs, upper arms, forearms and hands have been covered with plastic sheets cut from ice cream tubs;
Ball joints have been added to his wrists because his immobile hands were at a stupid-looking angle;
The leg guns have been permanently attached with pins between the boosters on top of the jet to fill in that gap and look a bit more like Skyfire's spaceship mode;
The arm cannons now attach to the forearms or the sides of the boosters with magnets;
Classics Voyager Jetfire kindly donated his gun so that this superior mold could look more cartoon accurate;
A hole has been added under the jet to store the rifle;
Rhinestones have been added to the guns for a glow effect;
He's had a complete coat of white to make him look a bit less plastic and cover up some of the red markings;
Silver and red details have been added in the right places to mimic the cartoon;
A dirt wash brings out the panel lines and makes him look well-travelled.
Originally this toy weighed a paltry 294g. Transformers: Animated leader class Megatron weighed over 400g and he was a disappointingly small figure.
Classics Voyager Jetfire
weighs 264g, this Skyfire now weighs 366g and he feels much better for it.
Before you ask, no, I don't weigh all my TFs.

•
•
•
•

•
•
•
•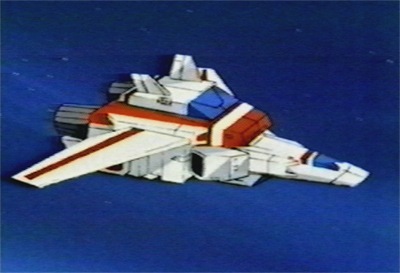 •
•
•
•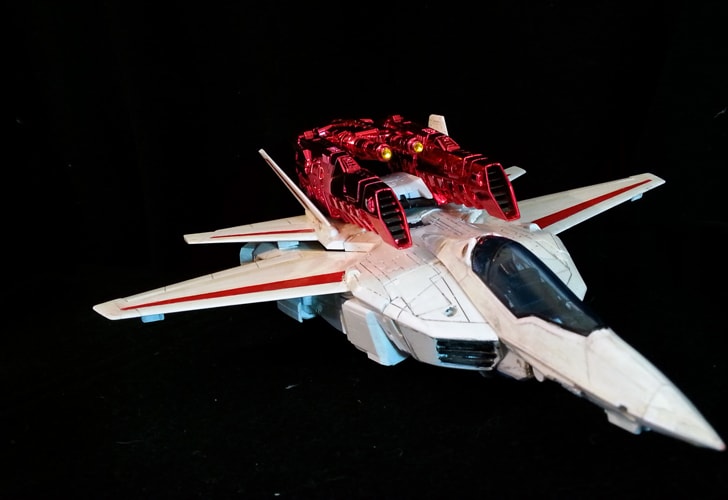 •
•
•
•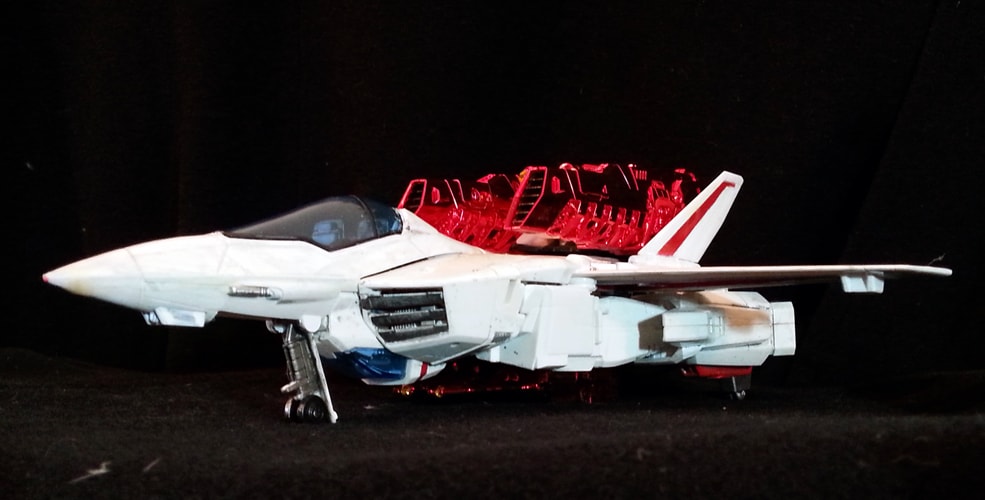 •
•
•
•
These cannons help to fill in the gap between those long red boosters:
•
•
•
•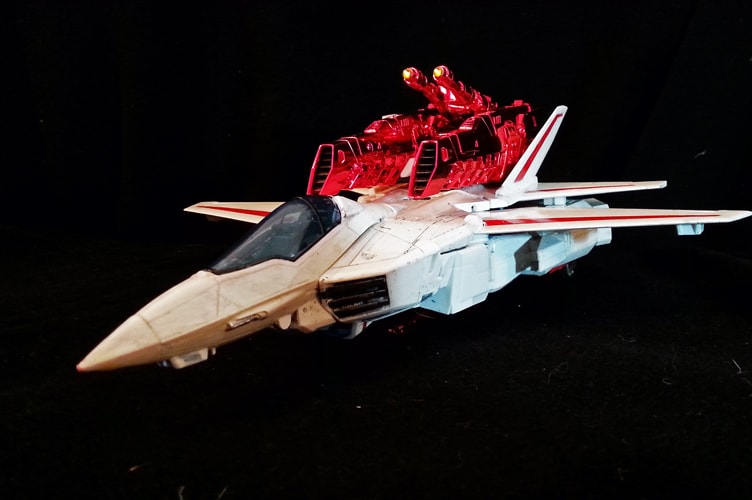 The cannons are on a pivot joint:
•
•
•
•
Here you can see how the arm cannons and rifle store in jet mode:

•
•
•
•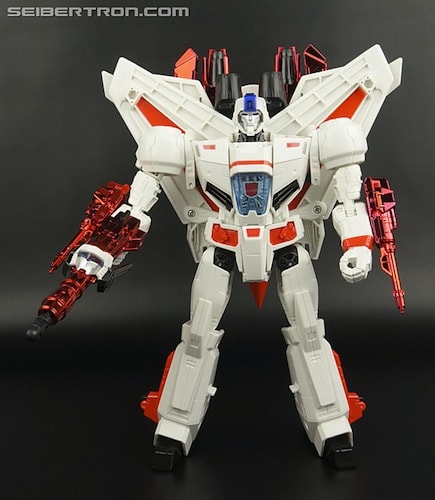 •
•
•
•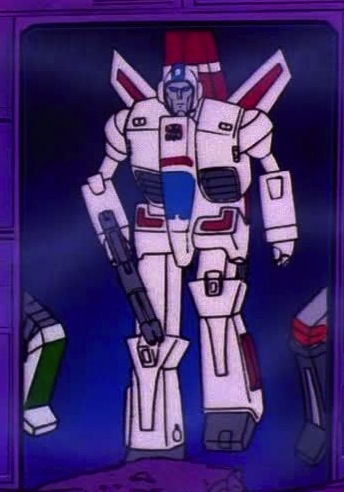 This is a terribly badly drawn picture of Skyfire, but it's the only one I could find from the cartoon that shows the gun and the correct colours.

•
•
•
•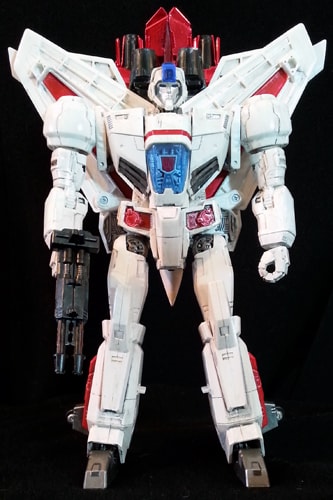 •
•
•
•
•
•
•
•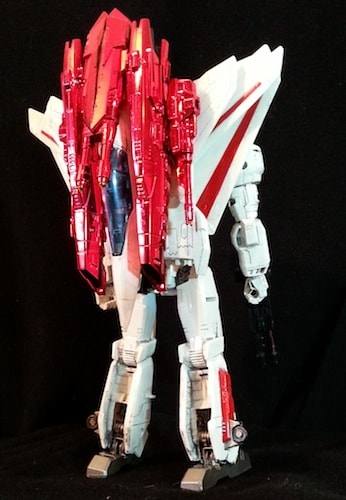 The arm cannons store on the sides of the backpack and the central cannons help to cover the canopy:
•
•
•
•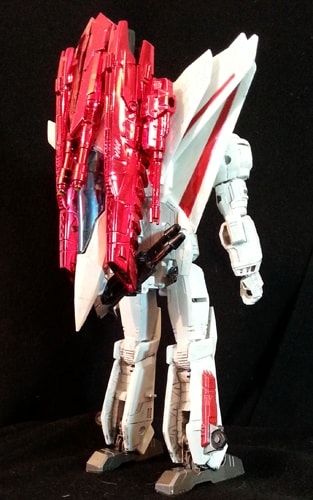 The rifle can be stored on his back as well:
•
•
•
•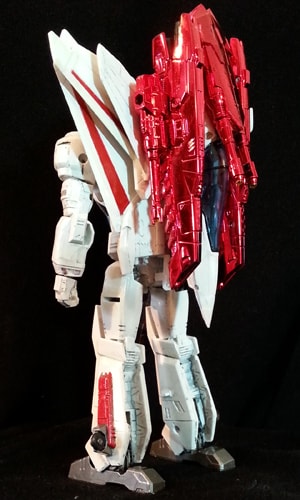 •
•
•
•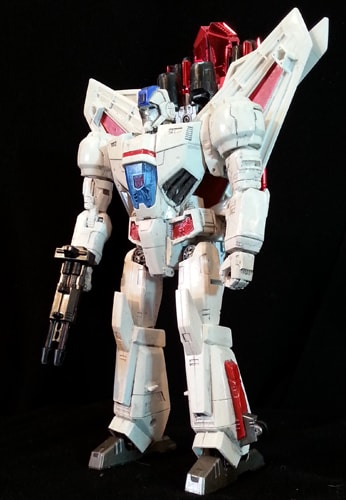 •
•
•
•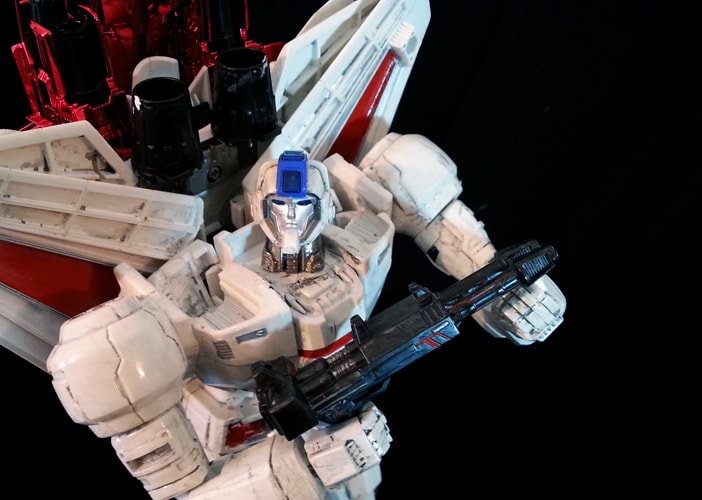 •
•
•
•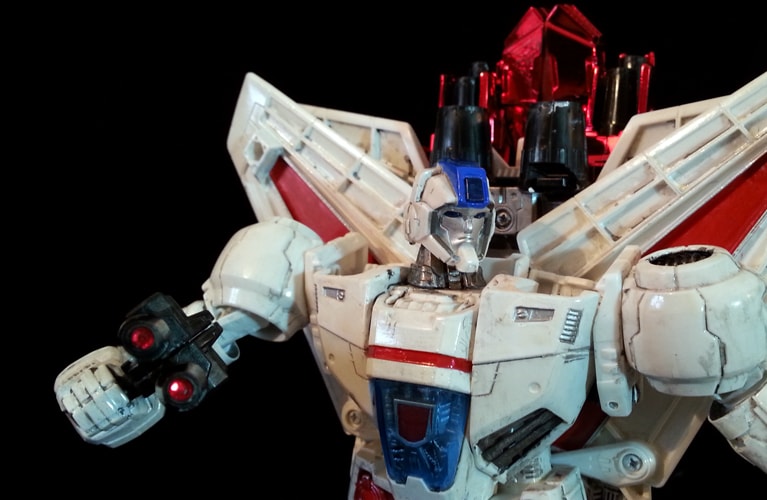 •
•
•
•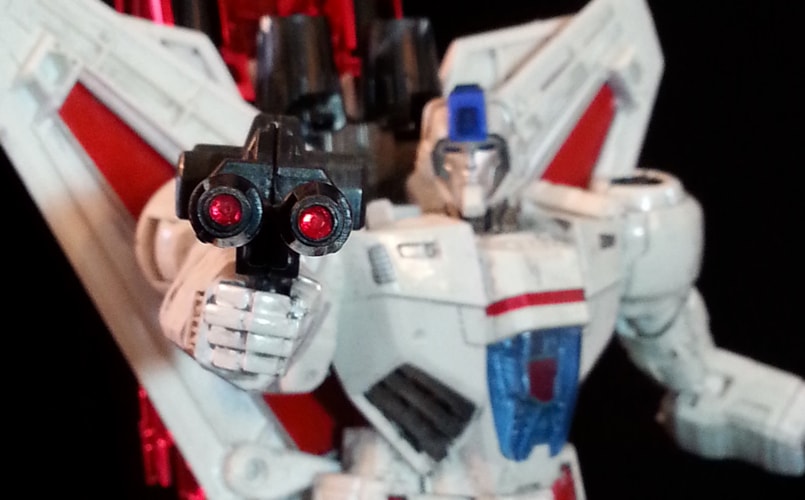 What you're looking at here is rhinestones sunk into 3mm wide holes that I drilled by hand into posts 3.6mm wide. I don't have a vice, work bench or modelling drill, just a masonry drill and a steady hand.
Yes, I'm
that
good.
•
•
•
•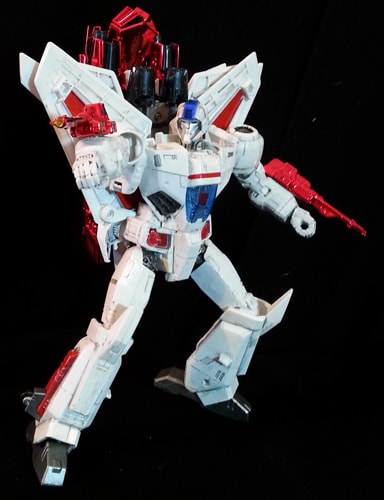 I don't care that Skyfire never had forearms cannons. I think they look cool.
•
•
•
•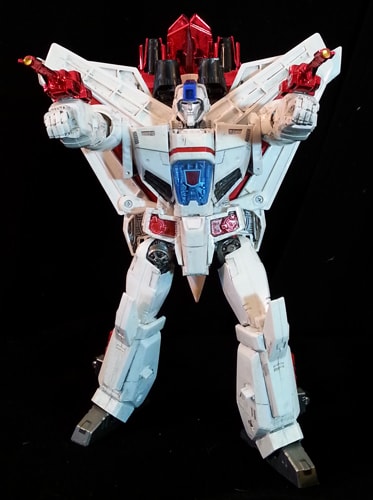 •
•
•
•
•
•
•
•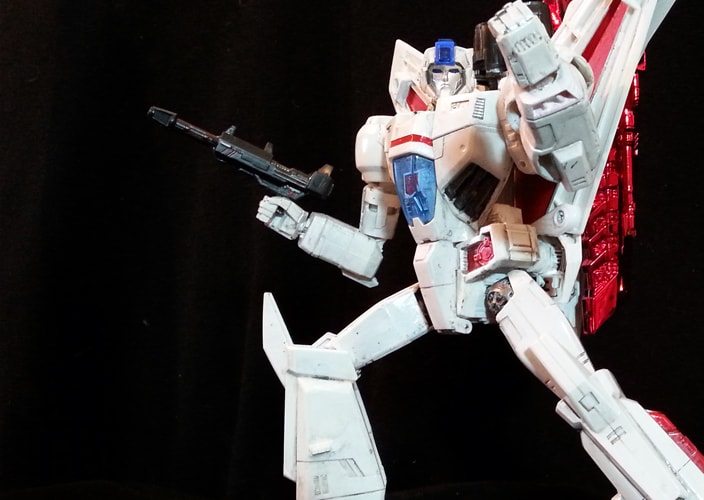 •
•
•
•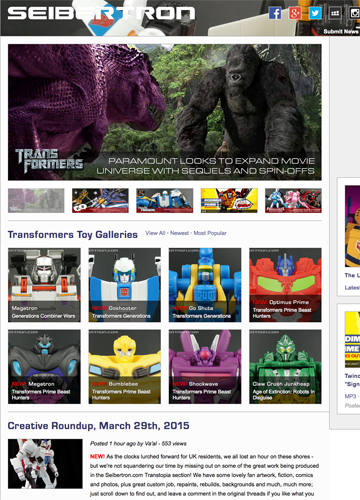 This custom got front paged on Seibertron!
Please sign my
and take a look at what people said on the
TFW2005
and
Seibertron
Forums.