•
•
•
•
Kitbashed, Repainted, Customized Transformers Movie Revenge Of The Fallen Bumblebee
I knew that I'd be chopping up Battle Blade Bumblebee (I didn't intend that pun but I'll leave it in!) within an hour of opening him and that's just what happened. If only designers didn't insist on giving TFs monkey arms (where the palm faces the same direction as the elbow) this figure would have been great.

Here is my list of fixes:

1) Loosen the battle mask as it was so tight I had to rip it off to put it over his face. This involved carving a ramp at the edge of the holes at the back of the channel it slides in and shaving the top off the ridges on the bottom edge.
2) Increase range of motion of shoulder ball joints. This enables him to have is elbows closer to his sides when they are at a natural height rather than adopting the muscleman pose like Universe HotShot, thus taking up less room on my crowded shelves (next project: put up more shelves!).
3) Add rotating wrists. I made a T-type swivel joint (like the ones in his biceps and thighs).
d) The blade is now attached via a magnet so that it can still be stowed securely in the same place for car mode. By trimming some troughs in the blue plastic and embedding more magnets the blade can now be wielded at a more useful angle than before. For storage in robot mode it slots into his backpack.
5) By shaving some of the grey plastic from the elbow joint I have enabled him to bend his arm slightly beyond 90°.
6) Glass beads added to the eyes, gun and headlights to catch the light and look as if they're lit from within.

After all this he was painted with about two thousand coats of yellow (being careful not to cover the black lines in car mode), some other detailing and damage.
•
•
•
•

•
•
•
•
•
•
•
•
•
•
•
•
•
•
•
•
•
•
•
•

•
•
•
•

•
•
•
•
•
•
•
•
•
•
•
•
•
•
•
•
•
•
•
•
•
•
•
•
•
•
•
•
•
•
•
•
•
•
•
•
•
•
•
•
•
•
•
•
•
•
•
•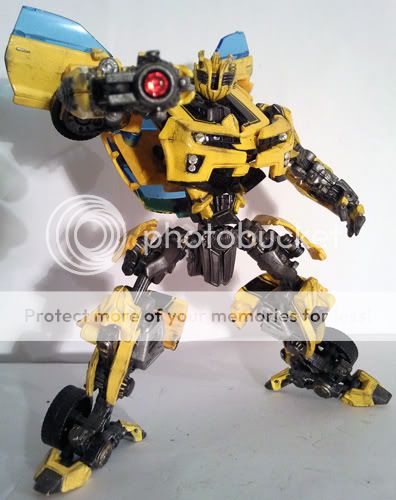 •
•
•
•
Please sign my
and take a look at what people said on the
Seibertron Forum